30 Days Return
12 Month Warranty
Next Day Delivery
Free Charger
Free Compostable Case
What's Included in Box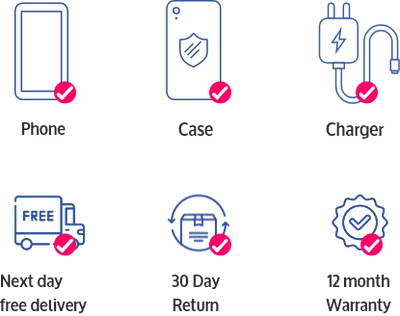 Description
Description
Since its inception, Apple has been known to produce flagship phones at extravagantly high prices but that has not stopped iPhone lovers to own their favorite device. Apple iPhone has its own fanbase and is known for its super display, world-class cameras, and other incredible features, unfortunately the prices for a new iPhone are extremely high, but that shouldn't stop you from owning one. How? Because at 247MobileShop UK we sell refurbished phones at affordable prices hence you can get a refurbished iPhone 11 Pro at affordable prices.
Welcome into the world of pro-cameras, pro display, and pro performance with a newly refurbished iPhone 11 Pro device. The 247MobileShop UK brings you to a whole new world of better Apple devices within an unimaginably affordable price range. The textured matte glass finish with a super retina XDR display will be a delight in your hands, all our second hand iPhone 11 Pro devices have a premium feel to them.
Get the toughest glass in a smartphone with wireless charging and facilities that would make your smartphone look like it's straight out of the future. With unparalleled customer service, a 1-year warranty, and the highest quality cameras, we hand you an iOS that does well for the environment through our ventures.
For those who look out for specifications in a mobile phone before buying one, the refurbished iPhone 11 Pro is loaded with powerful specs. It was released on September 20, 2019, this power-packed phone boasts Gorilla glass both in the front and the back and weighs only 188 g (6.63 oz). The body of this iPhone is dust/water resistant up to 4m for 30 minutes. Featuring iOS 13, upgradable to iOS 15.2, the Apple iPhone 11 Pro is a dream to own. This flagship phone also boasts scratch-resistant glass with an oleophobic coating.
No discussion about iPhone is ever complete without the mention of its camera. And iPhone 11 Pro boasts triple main camera lenses – wide (12 MP, f/1.8, 26mm), telephoto (12MP, f/2.0, 52mm), and ultrawide (12MP, f/2.4, a20", 13mm). These excellent camera specs allow you to click world-class pictures and all you need to do is to point and click.
Though released in 2019, the craze for Apple iPhone 11 pro is still high and iPhone fans want to hold this phone in their hands for the great specifications it offers. So, why not get the same device and feel at a much cheaper price using our second hand iPhone 11 Pro models? At 247MobileShop, we sell only top-notch products at affordable prices. The mobile phones go through thorough checking by experts and are then only sold to you. So, you can own a flagship device such as iPhone 11 Pro refurbished at affordable prices. 
All the phones we sell go through intensive checks for internal and external quality by experts and only if they pass the tests then only it is sold to you. Thus when you choose to buy refurbished iPhone 11 Pro from 247MobileShop UK, you are getting the best deal possible.
Refurbished means used, but 247MobileShop UK makes sure you do not receive a defective piece. Only after the device passes through all the tests do they go out in the market and are just as good as new, with no damages whatsoever. Factors like performance and cosmetic looks are checked and optimized by experts so that the phone you buy performs like a new one.
What is in the Box?
We are a one-stop platform for getting your second hand iPhone 11 Pro device at a reasonable price. This box of iPhone 11 Pro refurbished variant comes with:
A USB charging cable that comes with a 30-days money-back return in case of any emergency breakdowns.
A USB wall plug so that all the devices are fully network unlocked to work with any SIM from all major networks.
12 months warranty as standard. You can also extend this warranty to 24 or 36 months.
After-sales support with our committed customer service team that can answer any queries that you have. You can also visit our FAQ page to get in touch.
Specifications
8-inch Super Retina XDR display with HDR and True Tone1
Textured matt glass and stainless steel design
Water-resistant to a depth of 4 meters for up to 30 minutes (IP68)
Triple 12MP cameras (Ultra Wide, Wide, Telephoto) with Portrait mode, Night mode, Auto Adjustments, next-generation Smart HDR, and 4K video up to 60 fps with extended dynamic range.
iOS 13, upgradable to iOS 15.2.
Hexa core CPU (2x2.65 GHz Lighting + 4x1.8 GHz Thunder)
Apple GPU with 4 core graphics.
12MP TrueDepth front camera with Portrait mode, Smart HDR, 4K video recording up to 60 fps, and slo-mo video support for 1080p at 120 fps
Stereo Speakers
Dual Selfie camera. 12MP, f/2.2, 23 mm (wide), 1/3.6" and SL 3D (depth/biometric sensor)
Face ID for secure authentication and Apple Pay
A13 Bionic chip with third-generation Neural Engine
Battery type: non-removable Li-Ion 3046 mAh.
Battery life: up to 18 hours video playback; up to 11 hours video playback (streamed)
Qi Wireless charging
Fast charge 18W, 50% in 30 mins.
Sensors: Face ID, gyro, accelerometer, proximity, barometer, compass. Siri natural language commands and dictation. UWB support.
What do we test?
All our products go through stringent quality checks. There are at least 70 quality checkpoints for inspecting whether the product is in great condition or not. Several aspects of the handset are checked. These include
☑ Bluetooth
☑ Wi-Fi
☑ GPS
☑ Microphone
☑ Speaker
☑ Vibration
☑ Flash Light
☑ Earpiece
☑ Screen Test
☑ Front Camera
☑ Back Camera
☑ Home Button
☑ Volume Buttons
☑ Power button
☑ Mute Key
☑ Accelerometer
☑ Proximity
☑ Light Sensor
☑ Gyroscope
☑ Finger Print
☑ Phone Casing
☑ Earphone Jack
☑ Charging port
☑ NFC test
☑ Face ID


Sustainability
We work for making the world a better place. The environment is facing several threats from several man-made gadgets and to neutralize the amount of carbon footprint that your smartphones generate we believe in sustainable initiatives. We plant 10 trees for every 1 gadget purchased. So when you buy something from us, you can rest assured that you are doing something good for the environment.
Usually, any old phone gets dumped into the landfills and poisons the environment we live in. However, these poisonous effects can get minimized if you choose to buy a refurbished phone. That way, landfills do not get filled with poisonous elements like cadmium that a mobile phone contains, and you too get a great flagship product at the fraction of the price when compared to a new one.
So, buying a second-hand refurbished phone from 247MobileShop is a win-win situation and a sustainable choice. You get to hold a great flagship product and at the same time protect the environment.
Payment & Security
Payment methods
Your payment information is processed securely. We do not store credit card details nor have access to your credit card information.
---
Security