30 Days Return
12 Month Warranty
Next Day Delivery
Free Charger
Free Compostable Case
What's Included in Box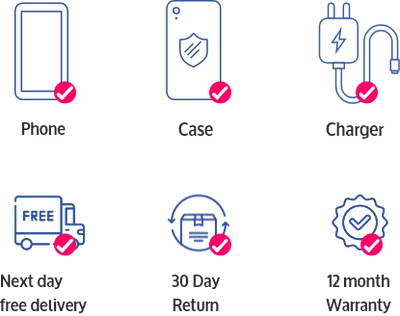 Description
Description
Apple just proved to the world that it knows how to do small, affordable flagships right! But is it really affordable? Well, not actually! Apple's iPhones have always been priced notoriously high. While Apple did lower the price by scaling things down a bit, the iPhone 12 Mini is still beyond the reach of most. This is where we 247Mobileshop UK and our product Refurbished iPhone 12 Mini comes into the picture!
Are you in love with iPhones but don't quite like the gargantuan size of modern flagships? Well, here's how you can lay hands on Apple's smallest family member at a fraction of its original price tag. We at 247Mobileshop UK, are proud to offer amazing deals on refurbished iPhone 12 Mini. The device comes with an OLED display, glass front and back, IP68 certification, Apple Pay support, Apple's flagship A14 Bionic chipset, powerful cameras, and more.
Apple's iPhone 12 mini is genuinely a smaller smartphone with very few compromises. The phone is quite cheaper than iPhone 12, 12 Pro, and 12 Pro Max. With a glass back, aluminum sides, and a new ceramic shield screen covering this device is 18% lighter than the regular 12 and almost half the size of the iPhone 11.
Apple iPhone 12 Mini comes with a modern OLED screen of 5.4 inches, which makes it significantly smaller than the iPhone 12 which has a 6.1 inches display screen. However, it is as crisp, sharp, colorful, and brilliant as its larger siblings.
Having a small phone can be beneficial in many ways - easily fit in the pockets, convenient for one-handed use, etc, and with 247MobileShop Refurbished iPhone 12 Mini is affordable as well. So if you want a handy smartphone with high-end features at an affordable rate then Second hand iPhone 12 mini is a perfect choice. Check out our web store for all sorts of iPhone 12 second hand deals.
With an A14 Bionic processor and 4GB RAM, Apple iPhone 12 mini provides the same class-leading performance without any compromises in speed, power, or connectivity. It offers a screen resolution of 1080 x 2340 pixels that makes the apps look just fine proportionally.

Despite being a small device where every millimeter counts, the integral quality of the device is amazing. Apple didn't compromise a bit on the design or casing. The body of the iPhone 12 mini perfectly matches its performant interior. You'll not miss out on any performance-related element with this smartphone.
Apple iPhone 12 Mini comes with a great camera that can provide world-class photographs. So this can be your ideal choice if you are a camera-oriented iPhone user. Just like iPhone 12, this device has a dual 12MP rear camera and 12MP front camera. Video recording is also top class as it includes Dolby Vision HDR recording in 4K. If you are looking for a pocket-friendly option that offers a smartphone with all these high-end features then look no further! Grab our second hand iPhone 12 mini deals and experience using a high-end handset.
Refurbished phones are always a better choice. The reconditioned phones come at cheap prices but work like brand new handsets. The 247MobileShop UK offers completely checked and tested mobile sets that are not only an affordable option but also sustainable. It does not make any difference in buying a brand new smartphone model or its refurbished version. In any case, both devices perform equally well and promise the same quality.
At 247MobileShop UK, we make sure that all our refurbished phones are fully functional and go through a proper quality check before being put up for sale. The same goes for these refurbished iPhone 12 Mini devices. Thus when you buy a refurbished iPhone 12 Mini from 247MobileShop UK, you are getting the best deal possible, therefore you can be assured that you are getting the full value for your money.
The handset comes will all appropriate accessories, and supports wireless charging. The device comes with a 12-month warranty as standard, which you can have extended up to 24 or 36 months as you may feel necessary. It comes with 64 GB of space, which is just about enough for day-to-day usage.
What is in the Box?
Looking to lay hands on your dream device? Well, here's an iPhone 12 Mini refurbished from UK available at competitive pricing. The 64 GB device comes with the following:
A USB charging cable that comes with a 30-days money-back return in case of any emergency breakdowns.
A USB wall plug so that all the devices are fully network unlocked to work with any SIM from all major networks.
12 months warranty as standard. You can also extend this warranty to 24 or 36 months.
After-sales support with our committed customer service team that can answer any queries that you have. You can also visit our FAQ page to get in touch.
100% quality repair parts
Carbon neutral shipping box
Environment-friendly mobile case
Specifications
Locked SIM Card: Unlocked
Screen Size: 6.1 Inches
Storage (GB) : 64 GB
Model: IOS 14
Double SIM: No
SD Card Slot: No
Year of Release: 2020
Brand: Apple
Weight (g) : 164
RAM: 4GB
Internal Memory: 64GB, 128 GB, 256GB
Display: 5.4 inches Super Retina OLED with true tone support
Software: iOS 14.1 that is upgradable to 15.2
Display protection: Ceramic glass and scratch-resistant
Camera: Dual camera of 12MP with OIS, selfie camera of 12MP
Video: Supports 4k at 60fps
Sound: Stereo speakers
Battery: mAh with Qi-based fast and wireless charging
What do we test?

All our products go through stringent quality checks. There are at least 70 quality checkpoints for inspecting whether the product is in great condition or not. Several aspects of the handset are checked. These include:
☑ Bluetooth
☑ Wi-Fi
☑ GPS
☑ Microphone
☑ Speaker
☑ Vibration
☑ Flash Light
☑ Earpiece
☑ Screen Test
☑ Front Camera
☑ Back Camera
☑ Home Button
☑ Volume Buttons
☑ Power button
☑ Mute Key
☑ Accelerometer
☑ Proximity
☑ Light Sensor
☑ Gyroscope
☑ Finger Print
☑ Phone Casing
☑ Earphone Jack
☑ Charging port
☑ NFC test
☑ Face ID


Sustainability
At 247MobileShop, we constantly try to make premium phones affordable and in turn, make this world a better place for all. The world and our environment are constantly under threat from man-made gadgets, thus, we try to do our bit by salvaging functional parts from old devices and offering refurbished phones at low prices, lowering the amount of carbon footprint. In fact, when you buy an iPhone 12 Mini refurbished from UK, you too are doing something good for the environment.
Payment & Security
Payment methods
Your payment information is processed securely. We do not store credit card details nor have access to your credit card information.
---
Security