30 Days Return
12 Month Warranty
Next Day Delivery
Free Charger
Free Compostable Case
What's Included in Box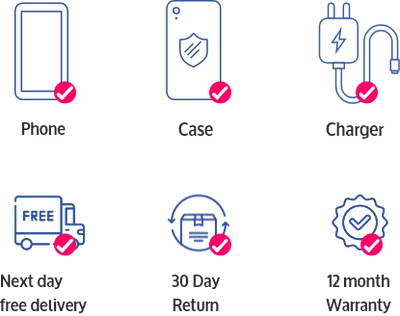 Description
Description
Samsung has time and again come up with feature-rich premium devices – handsets that have revolutionized the smartphone industry. And one such unique device has been the Samsung Galaxy S10 Plus which came out in early 2019. Known for its incredible display, gorgeous design, and great battery life, the device immediately hit the headlines, and even now commands a robust fan following. So how can you get one? While it is true that Samsung doesn't sell the device any longer, you can still lay hands on this gorgeous piece of Samsung Galaxy S10 plus refurbished device from 247MobileShop UK. We offer second hand Samsung Galaxy S10 Plus devices at affordable prices.
For those who are particular about the specifications, the refurbished Samsung Galaxy S10 Plus comes with a 6.4-inch 1440 x 3040 pixels AMOLED screen, always-on display, Corning Gorilla Glass protection, powerful processor, triple camera setup (12 MP + 12 MP + 16 MP) with OIS support, 4K video recording, dual selfie cameras (10 MP + 8 MP), 3.5 mm audio jack, Bluetooth v5.0, USB Type-C port, 4100 mAh battery, 15W fast charging support, and more. The fact that it was once a flagship device from Samsung, makes this refurbished Samsung S10 Plus quite good even today. At 247MobileShop UK, we make sure that you get nothing but the best and thus when you buy refurbished Samsung Galaxy S10 plus from 247MobileShop UK, you get the best deal possible.
Why should you buy second hand Samsung Galaxy S10 Plus device from us? The 247MobileShop UK is known for selling top grade refurbished devices like Samsung Galaxy S10 Plus refurbished phone at pocket-friendly rates. We make it possible for people to own premium devices at a fraction of their original cost. There's more to us than meets the eye! All our second hand devices go through extensive quality tests before being offered for sale, thus when you buy a device from us, you know you are laying hands on a certified product that's going to last you long. Moreover, the Samsung Galaxy S10 Plus refurbished device comes with a 1-year warranty out-of-the-box, which can be further extended – a total value for money offer.
So, for those looking to lay hands on a refurbished Samsung Galaxy S10 Plus SIM free handset, you can rely on 247MobileShop UK. When it comes to top-grade second hand refurbished or renewed handsets, there's no place better! Our platform is dedicated to helping people get premium phones at industry-best prices. So, when you opt for a refurbished Samsung Galaxy S10 Plus SIM free handset, rest assured knowing that it would still feature the same 6.4-inch AMOLED display, the triple camera setup at the rear, the same dual camera setup at the front, and sport the same powerful battery inside. The renewed Samsung Galaxy S10 Plus is a great device, one that would suit power users as well as gamers. So, whether you are buying it as your secondary device, or whether you want to experience it to the fullest – as your primary device, the handset would serve you well. At 247MobileShop UK, we make sure that the handsets are in top shape and offer you the same experience as any new device does.
What is in the Box?
At 247MobileShop UK, we genuinely care about the interests of our customers and thus we offer the following with the refurbished Samsung Galaxy S10 Plus device:
A 12-month buyback guarantee – something you'd not find any other refurbished seller do.
An environment-friendly, bio-degradable phone box.
A genuine charging cable to juice up your device.
An unmatched 12-month warranty as standard, which can be extended up to 24 or 36 months, upon paying a small fee.
Specifications of Refurbished Samsung Galaxy S10 Plus
Weight: 175g
Dimensions: 157.6 x 74.1 x 7.8mm
OS: Android 9
Screen size: 6.4-inch
Resolution: 1440 x 3040 pixels QHD+
CPU: Octa-core chipset
Storage: 128GB
Battery: 4,100mAh
Rear camera: 16MP + 12MP + 12MP
Front camera: 10MP + 8MP
Waterproof: IP68
Headphone jack: Yes
Build: Aluminum frame with glass front and back panels
Glass Protection: Corning Gorilla Glass 6
Chipset: Qualcomm Snapdragon 855
GPU: Adreno 640
Fast-charging: 15W
Rear camera video: Record videos in 4K@60fps without stabilization, and up to 4K@30fps with EIS and OIS
Front camera video: Record videos in 4K@30/ 60fps or at 1080p
What do we test.?
All our products go through stringent quality checks. There are at least 70 quality checkpoints for inspecting whether the product is in great condition or not. Several aspects of the handset are checked. These include
☑ Bluetooth
☑ Wi-Fi
☑ GPS
☑ Microphone
☑ Speaker
☑ Vibration
☑ Flash Light
☑ Earpiece
☑ Screen Test
☑ Front Camera
☑ Back Camera
☑ Home Button
☑ Volume Buttons
☑ Power button
☑ Mute Key
☑ ☑ Accelerometer
☑ Proximity
☑ Light Sensor
☑ Gyroscope
☑ Finger Print
☑ Phone Casing
☑ Earphone Jack
☑ Charging port
☑ NFC test
☑ Face ID


Sustainability
At 247MobileShop, we genuinely care about our planet and the environment we live in, and that's why we take few sustainable measures to make this planet a better place for all. As smartphones leave a significant carbon footprint, we try to do our part in prolonging the life of premium devices and make sure that it's usable for 2 to 3 years more.
That is not all, when you buy refurbished Samsung Galaxy S10 Plus device from us, we plant 10 saplings for every device sold. Join us and do your part for the environment too.
By teaming up with 247MobileShop UK you would be benefitted in two ways. Firstly, you would get to own a premium refurbished device at a fraction of its original cost, and secondly, you would be able to contribute to the environment for the people and the ecosystem around you. By choosing to opt for a refurbished device, you prolong the life of a device that was otherwise sold off to be scrapped. Together, you and we lowered the carbon footprint in our little way.
Want to know more about this great initiative? Feel free to get in touch with us.
Payment & Security
Payment methods
Your payment information is processed securely. We do not store credit card details nor have access to your credit card information.
---
Security