30 Days Return
12 Month Warranty
Next Day Delivery
Free Charger
Free Compostable Case
What's Included in Box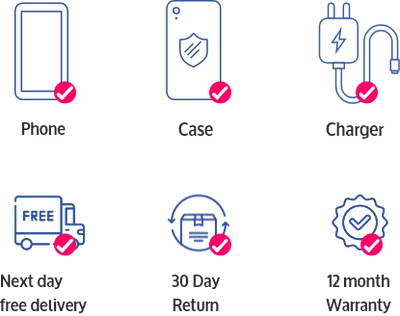 Description
Description
Looking for pro cameras, pro performance, and pro display all in a single smartphone? But, is it the budget that is not allowing you to lay your hands on the most sought-after Apple's iPhone? Then, you should definitely get in touch with us at 247MobileShop. We offer a whole new world of refurbished Apple devices as the iPhone 11 Pro Max Used at a never-seen-before price. The textured matte glass finish together with the Super Retina XDR Display will simply be a delight in your hands, to say the least.
With a Used iPhone 11 Pro Max, you get the toughest glass that you can ever see in a smartphone. And the wireless charging facility is something that will make your phone look like it's simply out of the future. With a 1year warranty, unmatched customer service, and top-notch cameras, you get an iOS that does well for the environment as well through our ventures.
But, the question arises as to why you should really purchase an iPhone 11 Pro Max Second Hand in Uk from us, here at 247Mobileshop. Well, it is here that we ascertain that our customers get nothing but the best. Before we sell a Second Hand iPhone 11 Pro Max, and for that matter, any other refurbished smartphones, the devices are put through rigorous quality checks in order to ensure that they are fully functional and also meet our standards. That's not all. We offer a 12-month warranty on all devices that you purchase from our platform. This warranty can also be extended to 24 months or 36 months just by paying a small fee. So, it goes without saying that you are completely secure when you procure an iPhone 11 Pro Max Second Hand from us, no doubt about that.
What's more? We ensure next-day delivery in the UK and also worldwide shipping which is completely free. Also, a Refurbished iPhone 11 Pro Max or any other iPhone is Sim Free, i.e., unlocked, and that would definitely save you from burning a hole in your pocket which might be the case had you decided to purchase a brand-new iPhone. Also, as aforementioned, an iPhone 11 Pro Max Refurbished comes with a 12-month warranty making it a safe choice. Therefore, needless to say, when you decide to purchase an iPhone 11 Pro Max Second Hand UK from 247Mobileshop, you are getting this premium flagship device at deals never seen before.
What is in the Box?
We are a one-stop platform for getting your dream iPhones at prices that are quite reasonable. Here's what you get with an iPhone 11 Pro Max Used
Compatible charging USB cable with a 30-day money-back guarantee in the event of malfunctions.
A USB wall plug that makes all devices fully network unlocked allowing it to work with any Sim from all major network providers.
Standard 12 months warranty that can be extended to 24 or 36 months.
Our committed customer service offers exceptional after-sales support capable of answering any question that you might have. You can also explore our FAQ page.
Specifications of iPhone 11 Pro Max refurbished Variant
6.5-inch Super Retina XDR display with HDR and True Tone
Textured matt glass and stainless steel design
Water-resistant to a depth of 4 meters for up to 30 minutes (IP68)
Triple 12MP cameras (Ultra Wide, Wide, Telephoto) with Portrait mode, Night mode, Auto Adjustments, next-generation Smart HDR, and 4K video up to 60 fps with extended dynamic range
12MP TrueDepth front camera with Portrait mode, Smart HDR, 4K video recording up to 60 fps, and slo-mo video support for 1080p at 120 fps
Face ID for secure authentication and Apple Pay
A13 Bionic chip with third-generation Neural Engine
Battery life: up to 20 hours video playback; up to 12 hours video playback (streamed)
Wireless charging
Fast charge with 18W adapter included
What do we test?
We put all our products through stringent quality checks before selling them. There are at least 70 quality checkpoints for ascertaining if the product is really in a good condition or not. Several aspects of the handset are checked. These include
☑ Bluetooth
☑ Wi-Fi
☑ GPS
☑ Microphone
☑ Speaker
☑ Vibration
☑ Flash Light
☑ Earpiece
☑ Screen Test
☑ Front Camera
☑ Back Camera
☑ Home Button
☑ Volume Buttons
☑ Power button
☑ Mute Key
☑ ☑ Accelerometer
☑ Proximity
☑ Light Sensor
☑ Gyroscope
☑ Finger Print
☑ Phone Casing
☑ Earphone Jack
☑ Charging port
☑ NFC test
☑ Face ID


Sustainability
We always pledge to make this world a better place to live in. There are several man-made gadgets that are causing several threats to the environment. Thus, to neutralize the amount of carbon footprint that smartphones like an iPhone 11 Pro Max Second Hand UK generate, we always believe in sustainable initiatives. We plant 10 trees for every refurbished smartphone that you purchase from us. So, when you procure an iPhone 11 Pro Max Refurbished from us, you not only get a premium flagship device at reasonable prices, but you are also doing your part for the environment.  So, a big thank you in advance.
Payment & Security
Payment methods
Your payment information is processed securely. We do not store credit card details nor have access to your credit card information.
---
Security