30 Days Return
12 Month Warranty
Next Day Delivery
Free Charger
Free Compostable Case
What's Included in Box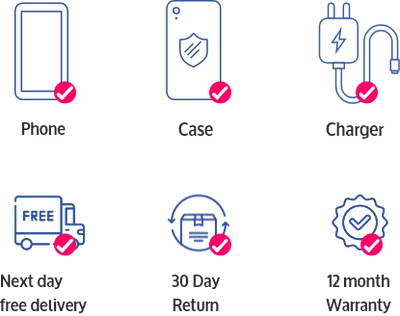 Description
About Samsung Galaxy s9 Refurbished 64GB Phone
Samsung has always been in the limelight for its trendy and neat, premium handsets, and the Galaxy S9 is no different. The device came out in March 2018 and immediately became one of the popular showstoppers in the world of smartphones. Such has been its demand that Samsung fanboys hope to lay hands on it even today. Luckily, you have 247MobileShop UK with you every step of the way.
Samsung S9 refurbished 64 GB comes with all the bells and whistles that you'd typically find in every flagship Samsung device. The top-grade refurbished Galaxy S9 handsets we have – not only look good and spotless but are also fully functional. The handset comes with a 5.8-inch Quad HD+ Super AMOLED display, 12 MP rear camera with OIS support, 8 MP front camera, 4 GB RAM, USB Type-C support, 3.5 mm audio jack, Bluetooth v5.0, 3000 mAh battery, and more. At 247MobileShop, all our second hand Samsung S9 handsets go through a series of rigorous tests before being put up for sale, so you can rest assured of receiving a quality product. We follow a customer-first policy, and thus, when you buy a product from us, you get complete value for money and guaranteed support whenever you face any problem with the device.
247MobileShop is known for offering top-of-the-line used Samsung S9 refurbished  UK handsets at a fraction of its original pricing. All handsets come at an affordable price point and are well within your reach. So, feel free to get in touch with us and avail a premium device. The handsets come with a 1-year warranty as standard, which can be extended further upon paying a fee.
What is in the Box?
At 247MobileShop UK, we take special care in offering you an unmatched phone buying experience, and this is why, when you buy a Samsung S9 second hand, you get the following with it:
An environment-friendly, bio-degradable box
A genuine charging cable to power the device anytime, anywhere
A 12-month warranty as standard, which can be extended to 24 or 36 months
A whopping buyback guarantee of 12 months
Specifications
Dimensions: 147.7 x 68.7 x 8.5 mm
Weight: 163g
Screen size: 5.8-inch CPU: Snapdragon 845 / Exynos 9810
RAM: 4GB
Storage: 64GB
Camera: 12MP rear, 8MP front
Battery: 3,000mAh
What do we test?
All our products go through stringent quality checks. There are at least 70 quality checkpoints for inspecting your Samsung s9 second hand whether the product is in great condition or not. Several aspects of the handset are checked. These include
☑ Bluetooth
☑ Wi-Fi
☑ GPS
☑ Microphone
☑ Speaker
☑ Vibration
☑ Flash Light
☑ Earpiece
☑ Screen Test
☑ Front Camera
☑ Back Camera
☑ Home Button
☑ Volume Buttons
☑ Power button
☑ Mute Key
☑ Accelerometer
☑ Proximity
☑ Light Sensor
☑ Gyroscope
☑ Finger Print
☑ Phone Casing
☑ Earphone Jack
☑ Charging port
☑ NFC test
☑ Face ID
Sustainability
Since the beginning, 247MobileShop has always been at the cusp of tech innovation, and we've made tireless efforts to make technology available to all. This, along with our zeal to make the world a better place for all, urged us to dive into the world of refurbished devices like refurbished Samsung s9 or refurbished s9. Over the years, we've successfully built our reputation and are now able to offer one of the lowest second hand Samsung S9 prices. By selling used and refurbished Samsung mobiles, we are trying to reduce the carbon footprint around, and by buying from us, you can help the environment too. Prolonging the life of smartphones is a great way of doing something fruitful for the planet.
Payment & Security
Payment methods
Your payment information is processed securely. We do not store credit card details nor have access to your credit card information.
---
Security