30 Days Return
12 Month Warranty
Next Day Delivery
Free Charger
Free Compostable Case
What's Included in Box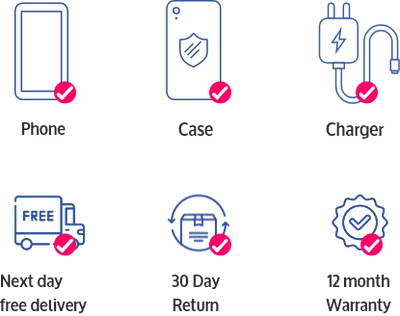 Description
Description
Have you always set your heart on a Second Hand Note 9, but was always pushed a step back owing to budget issues? Then, you should definitely connect with us for a Samsung Galaxy Note 9 Refurbished. Our team at 247MobileShop ensures that you get these top-notch premium Samsung phones at highly competitive rates.
Procuring a Note 9 Samsung refurbished is actually a great way to relish all its features and that too without burning a hole in your pocket. Loaded with a premium-built advanced OS, together with the leaner and amp, this Samsung Note 9 Refurbished is one of the best purchases that you can ever make if you are looking for refurbished phones. And the cherry on top is the effortless touch screen.
Moreover, we have committed that for every device that we sell on our website, we plant 10 trees which helps in reducing CO2 emissions. Thus, when you purchase this Samsung Galaxy Note 9, you not only gift yourself a well-built device but also play your part for the environment.
All the Second Hand Note 9 that we offer are either used, second-hand, or refurbished. We ensure next-day delivery in the UK and also we offer worldwide free shipping. Most of our smartphones are unlocked/sim free, and that offers considerable savings from buying brand new Samsung devices. Also, we offer a standard 12-month warranty on all our refurbished phones, and Galaxy Note 9 is no exception.  So, you are always protected. So, it goes without saying that if you decide to purchase a Note 9 Samsung from 247MobileShop, this captivating Samsung Note 9 Price in UK is simply going to leave you spellbound.
What is in the Box?
When you purchase a Samsung Note 9 from 247MobileShop, you get it in a clear, white box. Every box of this premium flagship comes with:
An astonishing buyback guarantee of 12 months
Bio-degradable Phone Case
Veritable and Compatible Charging Cable
Standard 12-month warranty which can be extended to 24 or 36 months.
Unmatched after-sales support.
Specifications of Refurbished Samsung Galaxy Note 9
Colors : Blue / Purple /Black
Memory: 8GB
Screen size (in): 6.4-inch Dynamic Super
Storage : 128GB
Model: Galaxy NOTE 9
Processor: 2.7 GHz
OS: Android
Weight: 201g
What do we test?
We perform comprehensive and stringent quality checks on all the Samsung Galaxy Note 9 devices before selling them. There are close to around 70 quality checkpoints for inspecting whether the product is in a good condition or not. Several aspects of the handset are checked, some of the checks your renewed Samsung Galaxy Note 9 passes through include:
☑ Bluetooth
☑ Wi-Fi
☑ GPS
☑ Microphone
☑ Speaker
☑ Vibration
☑ Flash Light
☑ Earpiece
☑ Screen Test
☑ Front Camera
☑ Back Camera
☑ Home Button
☑ Volume Buttons
☑ Power button
☑ Mute Key
☑ Accelerometer
☑ Proximity
☑ Light Sensor
☑ Gyroscope
☑ Finger Print
☑ Phone Casing
☑ Earphone Jack
☑ Charging port
☑ NFC test
☑ Face ID


Sustainability
We, at 247MobileShop, offer Second Hand Note 9, from the manufacturing process till customers lay their hands on them. And this is what ensures better sustainability. Thus, we can perceive the environmental impacts of these devices by a thorough life-cycle assessment of the Galaxy Note 9. It is this lifecycle assessment of these second-hand/used/pre-owned Samsung phones that allows our experts to identify the environmental impact and thereby offering great deals by investing in modern renewable energy and using quality recycled materials.
Payment & Security
Payment methods
Your payment information is processed securely. We do not store credit card details nor have access to your credit card information.
---
Security