30 Days Return
12 Month Warranty
Next Day Delivery
Free Charger
Free Compostable Case
What's Included in Box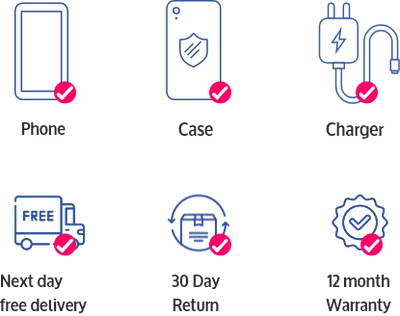 Description
Description
Experience the seamless generation of Galaxy S20 Plus from Samsung with captivating design and powerful features effortless touch screen is the cherry on the top.
Samsung launched the Samsung Galaxy S20 Plus only last year, i.e., in 2020. So, it is pretty a new handset, and it definitely has some more advanced features than its older siblings do not have. As the handset is quite fresh, it has a high demand in the market.
Your Samsung Galaxy S20 Plus refurbished comes with near prefect handsets offered by Samsung with the ultimate advanced features like better camera quality and more sensors. Also, it comes with a beautiful edge-to-edge display so that you have a widescreen experience. Because of all these superly dreamy and advanced features, Samsung offers the phone at a high price.
If the price printed on the box of the handset is lesser than the amount you have in your bank account, it will be better to not buy it. Instead of that, you can think of buying a refurbished Samsung Galaxy S20 Plus SIM-free. The refurbished version of this phone might not be a new phone, but it will still let you have the pleasure of owning the Samsung Galaxy S20 Plus.
So, if you are looking to buy refurbished Samsung Galaxy S20 Plus SIM-free at an affordable rate? At 247MobileShop UK we provide a one-stop platform for everyone's refurbished needs. Here, we offer well-functioning refurbished or second hand smartphones at just a fraction of their original price.
So, 247MobileShop UK brings you to the era of Galaxy S20 Plus at a price so reasonable that you cannot resist buying the set.
With the increased battery life, 128GB memory, and a 4X Optical Zoom, you can save energy and time. A few more attractive features are WQHD+ Resolution, 5G connectivity, dual-purpose SIM, and microSD card. Also, it has the USB-C port and speaker grille at the bottom part of the handset, while the selfie camera peeks its way through a neat small hole, just like Galaxy Note 10 Plus.
The best thing about the second hand Samsung Galaxy S20 Plus has to be its Camera Quality and buying a second hand one is a great way to enjoy all the benefits of its without shelling out the big bucks for a brand new model. So, what more reason do you need to buy refurbished Samsung S20 Plus? 

Plus, as we plant 10 trees for every device that we sell on our website, we significantly help to reduce CO2 emissions. Grab the 6.7" version of the Samsung Galaxy S20 Plus from Mobile Shop and step ahead to save the environment while getting yourself a cool, feature-packed gadget. We will love to offer you what we have at surprising deals that you won't find anywhere else. Don't wait any longer and get your hands on our refurbished Samsung S20 Plus at the best deal!
What is in the Box?
At 247MobileShop UK, we don't just offer a refurbished phone in a box we offer robust packaging for your Samsung Galaxy S20 Plus refurbished devices. Unlike other refurbished phone selling platforms, we provide a few things more within the box.  We provide a package when it comes to our gadgets. For this Galaxy S20 Plus refurbished variant, the following things come with the box:
A whooping buyback guarantee of 12 months
Environment-friendly, bio-degradable phone case
Authentic charging cable
12 months warranty
Carbon neutral promise to reduce the effect of your carbon footprint
Specifications of refurbished Samsung Galaxy S20 Plus
6.7" Quad HD+ Dynamic AMOLED touchscreen

WQHD+ resolution (3200 x 1440)
Triple 64 MP / 12 MP / 12 MP main rear cameras with 20x hybrid zoom


10 MP front camera

Exynos 990 processor (octa-core)

128GB Internal Storage

12GB RAM

MicroSD Support (up to 1 TB)

5G accessibility

Wireless PowerShare

Dual Nano SIM


Security features - Fingerprint scanner & Facial recognition

Battery capacity: 4500 mAh
What do we test?
Since the refurbished phones are not new and used before, there are chances that they might have some issues that made the previous owners return them in the first place. So, it is important that you buy your refurbished phone from a trusted refurbished phone deal like us - 247MobileShop UK. At 247MobileShop UK, we offer refurbished or second hand phones to your customers only when they are in their best functioning state. Here, we perform a number of mandatory quality tests to check the working conditions of the old phones. So, all our products go through stringent quality checks. There are at least 70 quality checkpoints for inspecting whether the product is in great condition or not. Several aspects of the handset are checked. Some of the things we check before we offer our refurbished phones are:

☑ Bluetooth
☑ Wi-Fi
☑ GPS
☑ Microphone
☑ Speaker
☑ Vibration
☑ Flash Light
☑ Earpiece
☑ Screen Test
☑ Front Camera
☑ Back Camera
☑ Home Button
☑ Volume Buttons
☑ Power button
☑ Mute Key
☑ Accelerometer
☑ Proximity
☑ Light Sensor
☑ Gyroscope
☑ Finger Print
☑ Phone Casing
☑ Earphone Jack
☑ Charging port
☑ NFC test
☑ Face ID


Sustainability
Technology thrives because of humans and humans thrive because of Mother Nature. This is why all our tech initiatives are focused on being planet-friendly. As each phone on average emits 79kg of carbon, we are trying our best to neutralize this amount through funding sustainable initiatives that replenish the device's carbon from the ecosystem. At 247MobileShop UK, we always look for ways to lessen the harmful effects on the environment. That's why we offer refurbished phones to our customers. Here, we try to at least recycle old phones and offer them to customers and lessen the demand for newer phones while the older ones get dumped into the landfills. Also, we advise our customers to prefer buying a refurbished phone and contribute to the environment safe. Even the manufacturing of new phones can cause an adverse effect on the environment because of the toxic by-products. Thus when you buy refurbished Samsung Galaxy S20 Plus from us, you are doing your part for the environment as well.
Payment & Security
Payment methods
Your payment information is processed securely. We do not store credit card details nor have access to your credit card information.
---
Security