30 Days Return
12 Month Warranty
Next Day Delivery
Free Charger
Free Compostable Case
What's Included in Box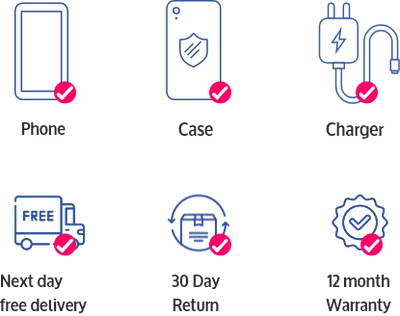 Description
Description
Experience the seamless generation of Galaxy A50 from Samsung with captivating design and powerful features. The leaner, lightweight refurbished phone is loaded with a premium built and advanced OS and the effortless touch screen is the cherry on the top. 247MobileShop brings you to the era of Galaxy A50 at a price so reasonable that you cannot resist buying the set.
With the increased battery life, 64GB memory, and a 4X Optical Zoom, you can save energy and time.
The best thing about the Samsung Galaxy A50 64GB has to be its . And buying a second hand one is a great way to enjoy all the benefits of its without shelling out the big bucks for a brand new model.
Plus, as we plant 10 trees for every device that we sell on our website, we significantly help to reduce CO2 emissions. Grab the 6.4" version of the Samsung Galaxy A50 from Mobile Shop and step ahead to save the environment while getting yourself a cool, feature-packed gadget.
What is in the Box?
We provide a package when it comes to our gadgets. For this Galaxy A50 variant, the following things come with the box:
A whooping buyback guarantee of 12 months
Environment-friendly, bio-degradable phone case
Authentic charging cable
10 trees planted for every set purchased
12 months warranty
Carbon neutral promise to reduce the effect of your carbon footprint
Specifications
Colour

 

: White, Blue, Black ,Coral
SIM card

 

: Unlocked
Screen size (in)

 

: 6.4
Storage

 

: 64, GB,128 GB
Memory

 

: 4 GB
Model

 

: Galaxy A50
Processor speed

 

: 2.3 GHz
Weight

 

: 168 g
What do we test.?
All our products go through stringent quality checks. There are at least 70 quality checkpoints for inspecting whether the product is in great condition or not. Several aspects of the handset are checked. These include
☑ Bluetooth
☑ Wi-Fi
☑ GPS
☑ Microphone
☑ Speaker
☑ Vibration
☑ Flash Light
☑ Earpiece
☑ Screen Test
☑ Front Camera
☑ Back Camera
☑ Home Button
☑ Volume Buttons
☑ Power button
☑ Mute Key
☑ Accelerometer
☑ Proximity
☑ Light Sensor
☑ Gyroscope
☑ Finger Print
☑ Phone Casing
☑ Earphone Jack
☑ Charging port
☑ NFC test
☑ Face ID




Sustainability
Technology thrives because of humans and humans thrive because of Mother Nature. This is why all our tech initiatives are focused on being planet-friendly. As each phone on average emits 79kg of carbon, we are trying our best to neutralize this amount through funding sustainable initiatives that replenish the device's carbon from the ecosystem.
Payment & Security
Payment methods
Your payment information is processed securely. We do not store credit card details nor have access to your credit card information.
---
Security