30 Days Return
12 Month Warranty
Next Day Delivery
Free Charger
Free Compostable Case
What's Included in Box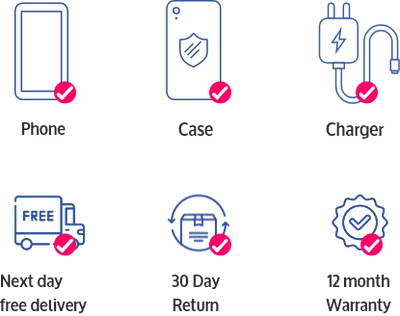 Description
Description
Samsung's handsets need no introduction. The South Korean biggie makes some of the most amazing smartphones in the world and has been in the limelight for more than a decade. Such has been the popularity of Samsung's Galaxy S series that people eagerly wait for refurbished or pre-owned devices just to get themselves a premium Samsung handset. 247MobileShop is known for offering quality refurbished handsets, and this second hand Samsung S10 128 GB is no different!
For those very particular about smartphone specs, the Galaxy S10 was once Samsung's flagship device, and thus, when you lay hands on a used Samsung S10 refurbished phone, you'd get nothing but the best. The device comes chock-a-block with features. It includes a 6.1-inch Quad HD+ AMOLED display, triple camera setup – 12MP, 12 MP, and 16 MP with OIS support, 4K video recording, slow motion video recording at 240 fps, 10 MP front camera, 8 GB RAM, USB Type-C support, 3.5 mm audio jack, Bluetooth v5.0, and 3400 mAh battery. At 247MobileShop, we try to come up with the best devices and offer great value for money. So, if you've ever wished to get yourself a premium Samsung device, the top grade used Samsung S10 would serve you well.
At 247MobileShop, all our pre-owned refurbished devices undergo all kinds of quality checks (which you can check below), to make sure that you get complete value for money. The Samsung Galaxy S10 second hand listed herein is completely functional and works like a charm. It comes with a 1-year warranty, to further sweeten the deal. So, if you've been looking to purchase a refurbished Samsung s10 at affordable pricing, now's your chance. Get cracking!
Experience the seamless generation of Galaxy S10 5G from Samsung with captivating design and powerful features effortless touch screen is the cherry on the top. 247MobileShop brings you to the era of Galaxy S10 refurbished 5G at a price so reasonable that you cannot resist buying the set.
With the increased battery life, 512GB memory, and a 4X Optical Zoom, you can save energy and time.
The best thing about the Samsung Galaxy S10 5G 512GB has to be its. And buying a second hand one like Galaxy s10 refurbished, it is a great way to enjoy all the benefits of it without shelling out the big bucks for a brand new model.
Plus, as we plant 10 trees for every device that we sell on our website, we significantly help to reduce CO2 emissions. Grab the 6.7" version of the Samsung Galaxy A20e or Galaxy s10 refurbished from Mobile Shop and step ahead to save the environment while getting yourself a cool, feature-packed gadget.
What is in the Box?
At 247MobileShop, it is our constant endeavour to come up with innovative solutions and enhance your phone buying experience. Thus, when you buy refurbished Samsung s10 128 GB from us, we provide the following:
An environment-friendly, bio-degradable phone box
An authentic charging cable to power the device anytime, anywhere
A 12-month warranty as standard, which can be extended to 24 or 36 months
A whopping buyback guarantee of 12 months
Specifications
Weight: 157g
Dimensions: 149.9 x 70.4 x 7.8mm
OS: Android 9
Screen size: 6.1-inch
Resolution: QHD+
CPU: Octa-core chipset
RAM: 8GB
Storage: 128GB
Battery: 3,400mAh
Rear camera: 16MP + 12MP + 12MP
Front camera: 10MP
What do we test?
All our products go through stringent quality checks. There are at least 70 quality checkpoints for inspecting whether the product is in great condition or not. Several aspects of the handset are checked. These include
☑ Bluetooth
☑ Wi-Fi
☑ GPS
☑ Microphone
☑ Speaker
☑ Vibration
☑ Flash Light
☑ Earpiece
☑ Screen Test
☑ Front Camera
☑ Back Camera
☑ Home Button
☑ Volume Buttons
☑ Power button
☑ Mute Key
☑ Accelerometer
☑ Proximity
☑ Light Sensor
☑ Gyroscope
☑ Finger Print
☑ Phone Casing
☑ Earphone Jack
☑ Charging port
☑ NFC test
☑ Face ID


Sustainability
At 247MobileShop, we take our work seriously and take it upon ourselves to do our bit in saving the environment. This is why we salvage parts from old premium handsets and sell refurbished handsets like Samsung S10 refurbished. In fact, this very fact got us into the world of refurbished smartphones. This way, we get to reduce the carbon footprint around and prolong the life of smartphones. Therefore, when you buy a used refurbished Samsung Galaxy S10, you can do your part in saving the world too. That is not all! Our team plants 10 saplings for every Samsung Galaxy S10 refurbished 128 GB we sell.
Payment & Security
Payment methods
Your payment information is processed securely. We do not store credit card details nor have access to your credit card information.
---
Security